ABOUT Prof. Dr. Sailesh Pradhan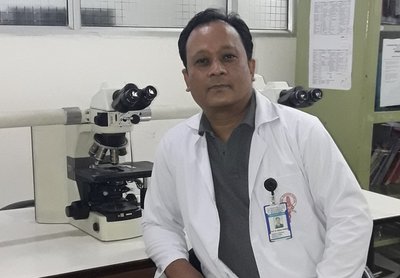 "
Prof. Dr. Sailesh Pradhan did MBBS from Chittagong University, Bangladesh in 1996. Dr. Pradhan completed his MD in surgical pathology from Institute of Medicine, TU in 2003. He is registered as a specialist in Pathology by Nepal Medical Council from 2004. He started working as a Lecturer in department of pathology at Kathmandu Medical College affiliated to Kathmandu University. He is working as Head of the Department since 2014.
He is actively involved in the teaching-learning program in Undergraduate (MBBS, BDS, B.Sc. Nursing) and post graduate (MD Pathology) as
Preceptor, Examiner (Internal & External) – MD, MBBS, BDS – University examination
Exam paper – Setting, Moderator, Checking - University & Council examination
Thesis reviewer
Peer reviewer for the journal from JNMA, BJMS, JNHRC, KUMJ, etc.
He has attended and presented scientific papers in many National and International seminars including oration lecture in NAST. He is the author of Manual of Infection Control.
He is serving as President of Association of Clinical Pathologists of Nepal (ACPN) from 2017 till date.
Prof. Dr. Sailesh Pradhan
HOD, Department of Pathology