Department of Community Medicine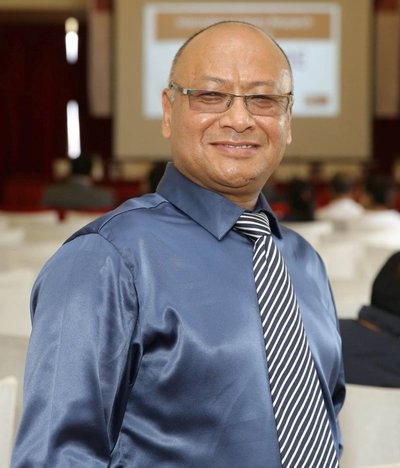 Dr. Sunil Kumar Joshi
MD, MPhil, PhD, PGDD, FRSPH
Professor & Head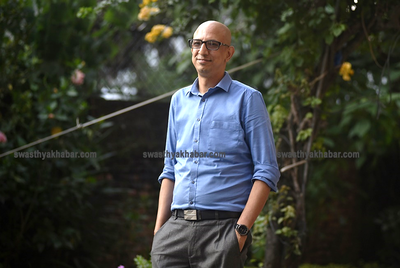 Dr. Abhinav Vaidya
MBBS, MD, PhD
Professor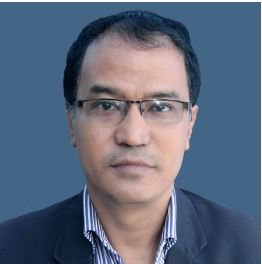 Dr. Ram Krishna Chandyo
MD, MPhil, PhD
Associate Professor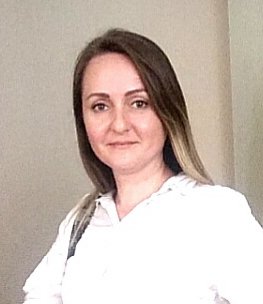 Dr. Natalia Oli
MD MPH PhD
Associate Professor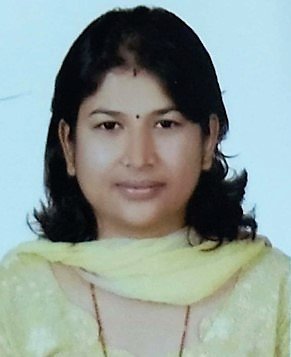 Dr. Pratibha Manandhar
MBBS, MD
Assistant Professor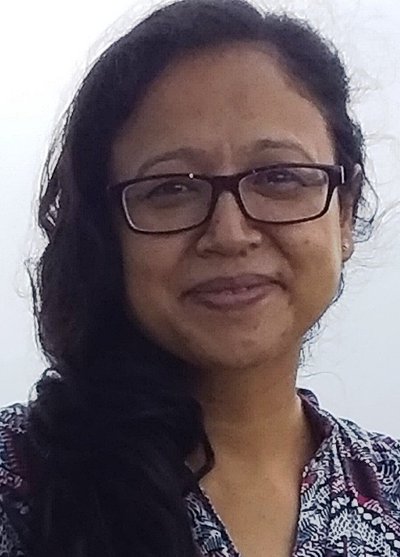 Dr. Marina Vaidya Shrestha
MBBS, MD
Assistant Professor
About Department of Community Medicine
Teaching Learning Activities details:
The Community Medicine Department has two working units; one at the Basic Sciences at Duwakot primarily for the MBBS 1st and 2nd year students, and BDS students; and another at KMCTH, Sinamangal for the MBBS 3rd year students. The Department had been successfully running post-graduation courses (MD and PhD Community Medicine). There are now eight candidates enrolled in MD Community Medicine and one PhD candidate at KMC.
Faculty members and MD students attend regular health camps run by the Department of Community Medicine in different areas in Nepal. MD students are placed regularly in Indrawatee Community Service Center, Kavre/ Sindhupalchok and Thokarpa Rural Municipality, Sindhupalchok for residential posting. Similarly, they provide regular clinical services to the patients attending Indrawatee Community Service Center, Sindhupalchok.
The Department is currently utilizing the following teaching-learning methods for the undergraduate and post graduate students:
Theory lectures for the undergraduate medical students as per university modules
Practical classes in Bio-statistics, Entomology, Demography, Epidemiology, Nutrition etc. for I and II year MBBS students
Practical classes on data analysis using various software such as SPSS and EPI INFO for III MBBS students
Field visits- to public health importance places: Water treatment centre, Bode, Sewage treatment centre, Guheswari/ Nala, DDC, Balaju/ Thimi, SOS, Panauti, for I MBBSstudents
Field visits to different Communities and Health Centers for Community Diagnosis- Gundu, Balkot, Thimi, Nala, for II MBBSstudents
Clinical Orientation classes for III year MBBS students in the communityin Sindhupalchok
Bed side communication skills for III year MBBS students in the community health centers in Sindhupalchok
Residential Family Health Care Advisory programme for MBBS III students at Thokarpa, Sindhupalchok for one week
Field visit to Anandban Leprosy Mission Hospital, Tika Bhairab, Lele, Bungmati Health Centre, Bungamati, NTC/Genetop TB Centre, Thimi/ Kalimati and Primary Health Centre, Changunarayan, Chapagaon for MBBS III students.
III MBBS students research activities and publication
School health program: General health checkup and health education for Teachers and students of schools.
Post graduate student seminars and presentations
Ongoing Research Activities in the Department:
Nepal Injury Research Centre related research activities (in collaboration with the University of West of England, Bristol) – Prof. Dr. Sunil Kumar Joshi
Identifying feasible systems of injury measurement in Nepal
Pre-hospital emergency case for trauma victims in Nepal: a mixed- methods study
Understanding the barriers and Facilitators to providing first aid to road traffic victims in Nepal
Research Priorities in Suicide Prevention in Nepal: Using Mapping And Delphi Technique
Identification of research priorities for a safe systems approach to road safety in Nepal
Culturally competent approaches to injury prevention
Interprofessional collaboration for road danger
Finding the Concepts of 'Injury' in Nepal
Inclusive Safe Mobility in Urban Road Environments - Perspectives on Facilitators, Barriers and Implications
Pedestrian safety intervention review- Focusing on people with disabilities
Addressing violence against women in antenatal care environment 2 (ADVANCE 2), Norwegian Research Council, FIFRO Grant (in collaboration with Norwegian University of Science and Technology, Trondheim, Norway) - Dr. Sunil Kumar Joshi
Understanding the community attitudes and knowledge towards lesbian, gay and bisexual people and exploring experiences of the homosexuals in Nepal: A Qualitative study (in collaboration with Linnaeus University, Kalmar, Sweden) - Dr. Sunil Kumar Joshi
Knowledge, attitude and practice of abortion in slum area of Kathmandu- Dr. Sunil Kumar Joshi and Dr. Naresh Manandhar
Occupational health hazards of Security guards of Kathmandu Dr. Sunil Kumar Joshi and Dr. Naresh Manandhar
Building research capacity for prevention and control of non-communicable disease risk factors in Nepalese population (The bRISK Project) - Dr. Abhinav Vaidya
Formative research to inform a community-based CVD prevention intervention among urban poor in Kathmandu, Nepal - Dr. Abhinav Vaidya
Translational Research Capacity Building Initiative to Address Cardiovascular Diseases in Nepal - Dr. Abhinav Vaidya
Supplementation of vitamin B12 in pregnancy and postpartum on growth and neurodevelopment in early childhood: A Randomized, Placebo Controlled Trial - Dr. Ram Krishna Chandyo
Heart-health Associated Research, Dissemination and Intervention in Community (HARDIC) Project (in collaboration with University of Skövde) - Dr. Abhinav Vaidya
Need assessment of service delivery for Non-communicable Diseases in Nepal (in collaboration with Kathmandu University School of Medical Sciences) - Dr. Abhinav Vaidya
Community Based Management of Diabetes in Nepal: a Clustered Randomized Controlled Trial (in collaboration with Aarhus University, Denmark) - Dr. Abhinav Vaidya
Tackling social determinants of Non-communicable Diseases in Nepal (in collaboration with Massey University, New Zealand) - Dr. Abhinav Vaidya
Development and Test of Community Based Interventions to Improve Hypertension Control in Nepal (in collaboration with University of New South Wales, Australia) - Dr. Abhinav Vaidya
Multi-sectoral approach to reduce pesticide use in farming (in collaboration with Nepal Public Health Foundation) - Dr. Abhinav Vaidya
WHO Non-communicable diseases Risk Factor Nepal STEPS Survey 2018-19 (in collaboration with Nepal Health Research Council) - Dr. Abhinav Vaidya
Translational Research Capacity Building Initiative to Address Cardiovascular Diseases in Nepal (in collaboration with Kathmandu University School of Medical Sciences) - Dr. Abhinav Vaidya
Analysing the policy and governance Environment for Non-communicable Diseases control, and identifying potential policy options for Nepal (in collaboration with Center for research on environment health and population activities) - Dr. Abhinav Vaidya
Prevalence of selected Chronic Diseases in Nepal (in collaboration with Nepal Public Health Foundation) - Dr. Abhinav Vaidya
20. Vitamin B12 supplementation for pregnant women for growth and development among infants in Bhaktapur, Nepal- a randomized double blind clinical trial - Dr.Ram Krishna Chandyo
21. Global Excellence in COPD Outcomes (GECo): Implementation of COPD Case Finding and Self-Management Action Plans in Bhaktapur, Nepal. - Dr. Ram Krishna Chandyo
22. Exposure to aflatoxin and gut function assessed by Lactulose Mannitol test among children in Nepalgunj (Aflacohort study) - Dr. Ram Krishna Chandyo
23. Translational Research Capacity Building to Address Cardiovascular Diseases in Nepal (in collaboration with Kathmandu University School of Medical Sciences) - Dr. Natalia Oli
24. Building research capacity for prevention and control of non-communicable disease risk factors in Nepalese population (The bRISK Project) Dr. Natalia Oli
25. Heart-health Associated Research, Dissemination and Intervention in Community (HARDIC) Project (in collaboration with University of Skövde)- Dr. Natalia Oli
26. COVID-19: Psychological distress and coping strategies among patients, frontline health workers and community members in Nepal- Dr. Natalia Oli
27. Formative research to explore existing gaps to address food literacy through understanding and use of nutrition labeling among different socio-economic status customers in grocery shops of Kathmandu- Dr. Natalia Oli