Addressing Domestic Violence in Antenatal Care Environment (ADVANCE) study
Addressing Domestic Violence in Antenatal Care Environment (ADVANCE) study, collaboration between Kathmandu Medical College (KMC) and Faculty of Medicine, Norwegian University of Science and Technology (NTNU), Trondheim, Norway, funded by the Norwegian Research Council FRIPRO Grant
Principal Investigator: Prof. Dr. Sunil Kumar Joshi, Head of Department of Community Medicine
Addressing Domestic Violence in Antenatal Care Environment 1 (ADVANCE 1) (2013 – 2018) study was a collaborative project between the Norwegian University of Science and Technology (NTNU), Norway, Kathmandu Medical College, and Kathmandu University School of Medical Sciences.
After successful completion of the ADVANCE 1 project, the research team from NTNU and KMC have been able to receive the highly prestigious Norwegian Research Council FRIPRO Grant for the ADVANCE 2 project, 2020 – 2025. Prof. Dr. Sunil Kumar Joshi, Head, Department of Community Medicine is the Principal Investigator of the ADVANCE 2 project at KMC. Dr. Poonam Rishal, a KMC graduate and PhD holder from ADVANCE 1 project is the Postdoctoral researcher in ADVANCE 2 project. Assistant professor at the Department of Community Medicine Dr Pratibha Manandhar has been selected as a PhD candidate under the ADVANCE 2 project.
Domestic violence in pregnancy is associated with a variety of adverse maternal health and pregnancy outcomes, as well as poor perinatal outcomes. The burden of domestic violence in pregnancy faced by women in Nepal is high. A variety of screening instruments and safety-promoting interventions are available for use in health care settings to identify and assist women experiencing domestic violence, but most of which have been developed in high-income country contexts.
In this project, we will validate a culturally sensitive, Nepalese language clinical screening instrument for identifying women living with domestic violence and a safety-promoting intervention intended for routine clinical use. We will conduct a randomised clinical trial to test the effectiveness of screening for domestic violence and implementing a safety intervention compared with standard antenatal care for improving maternal mental health and pregnancy outcomes. We will carry out a process evaluation of the implementation of the clinical trial to better understand the contextual factors influencing women's abilities to attain effective help from intervention. Finally, we will assess the feasibility of use and relevance of the screening tool and intervention in remote and rural settings of Nepal.
The key objectives of ADVANCE 2 are:
To improve the safety-promoting intervention and compare with other types of intervention in a randomised controlled trial (RCT) and
To formally validate the assessment instrument to identify women living with domestic violence in antenatal care settings and explore ease of use and impact of electronic delivery of the assessment.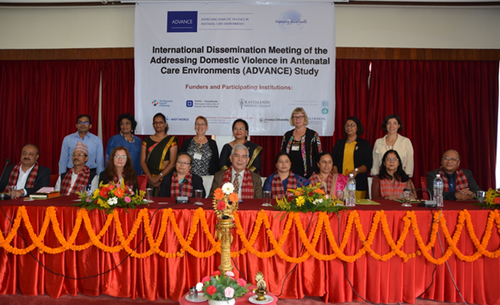 International dissemination meeting of the ADVANCE study on 2nd October 2018
Please visit the following below to learn about all research activities being conducted under ADVANCE 1 and 2 studies: https://www.ntnu.edu/advance