Bernard Lown Scholars Program: Collaboration between Harvard T.H. Chan Harvard School of Public Health and Kathmandu Medical College
Prof. Dr. Abhinav Vaidya has been selected to the prestigious Lown Scholars Program in Cardiovascular Health at Harvard TH Chan School of Public Health (HSPH)for 2019-20. He attended courses related to the Program at HSPH, Boston in July 2019. Likewise, Dr. Natalia Oli has been selected for the same program for 2021-22. The Lown Scholars Program was established in honor of Dr. Bernard Lown, a world-renowned cardiologist and activist, whose career has advanced public health globally. The Program is designed to create an international cadre of talented health professionals who will use public health tools and strategies to prevent cardiovascular diseases and promote cardiovascular health in developing countries, as defined by the United Nations. Since its establishment in 2008, The Lown Scholars Program has supported the work of more than seven dozen Lown Scholars from Asia, Latin America, Africa and the Middle East. Our support has facilitated productive and long-term collaborations between the Scholars and Harvard T.H. Chan School of Public Health faculty members.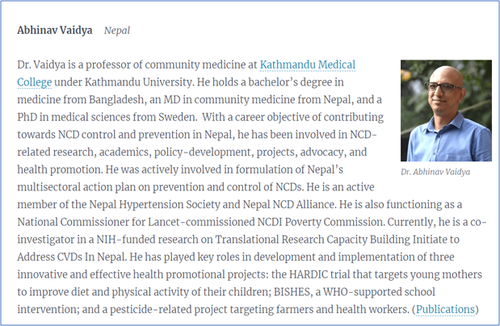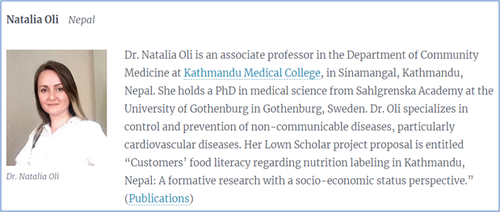 Screenshots from Bernard Lown Scholars Program website describing Dr. Vaidya and Dr. Oli's Lown Projects
Under coordination of Dr. Abhinav Vaidya, KMC hosted an interesting and interactive program for the students of the Harvard T H Chan School of Public Health on January 6, 2020. During the program, our talented and dynamic panelists - nephrologist Dr. Anil Pokhrel, cardiologist Dr. Mahesh Bhattarai, psychiatrist Dr. Rachana Basnet, and neurologist Dr. Dipesh Shakya shared their clinical experiences, elaborated on the disease burden in their respective specialties, described the services provided at KMC, and outlined the challenges to reduce the burden of NCDs in Nepal. Dr. Natalia Oli moderated the panel discussion, while the Harvard students enthusiastically participated in the discussions. The Harvard students also visited the various wards of the hospital, and interacted with patients suffering from NCDs. The tour was guided by the residents of Community Medicine Dr. Kiran Acharya, Dr. Prasanna Lama, and Dr. Nikita Bhattarai, who also participated in the Harvard Winter Field Course.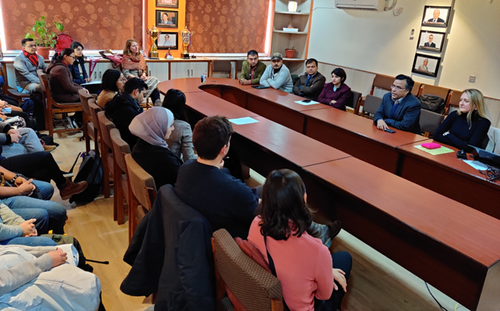 Panel discussion on non-communicable diseases at KMC [January 6, 2020]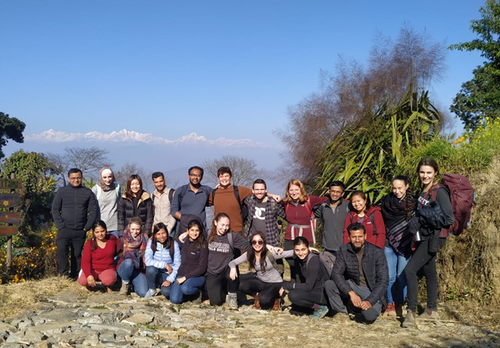 Harvard Winter Field Course [January, 2020]