Changing attitudes toward Sexual Trafficking and Gender-based Violence: An Intervention to Promote Gender Equality in Nepal
Changing attitudes toward Sexual Trafficking and Gender-based Violence: An Intervention to Promote Gender Equality in Nepal, collaboration between Kathmandu Medical College (KMC) and Faculty of Health and Caring Sciences, Linnaeus University (LnU), Sweden
Principal Investigator: Prof. Dr. Sunil Kumar Joshi, Head of Department of Community Medicine
A collaborative academic research project between Kathmandu Medical College (KMC) and Linnaeus University (LnU), Sweden started from June 2015 and ended in December 2020. The research was headed by Prof. Dr. Katarina Swahnberg (LnU) and Prof. Dr. Sunil Kumar Joshi (KMC). The PhD. candidate Pranab Dahal has received his doctoral degree in Health Science from LnU with the project 'Putting Scientific Research and Performing Arts Together: A Quest for Equality'.
This academic research had collaborated with performing fine arts and utilized participatory Forum Theatre methods in increasing awareness on gender equitable belief and reduction of gender-based violence and sex trafficking. This intervention-comparison study was conducted in twenty villages in Morang district reaching to 2000 respondents. The study used both quantitative and qualitative methods. The study used pre-tested color-coded audio assisted computer based self-interview (C-ACASI) method for the administration of the questionnaire in a mobile table device. The prior audio recording of questions in separate male and female voices reduced biases and helped reach illiterate population. The use of this method had been tested earlier to ensure confidentiality, security, and anonymity addressing the sensitivity of the issues raised by the research. The baseline was conducted in November-December 2016. Three rounds of forum theatre intervention in the intervention group were performed during 2017/2018. Actors Studio Nepal, headed by Anup Baral was the Forum Theatre partner for the study. The qualitative studies utilized six multistage focus group discussions and thirty individual interviews. The quantitative evaluation of the study was completed by mid of 2018.
An international conference was organized in 20 Jan 2019 to disseminate the preliminary findings from the study in Kathmandu. The research has also developed a documentary on the methodological aspect of Forum Theater which has been used as a teaching material for master's and bachelor level students at LnU.
As a part of the continuous research collaboration between KMC and LNU, we are planning to analyse the collected data during this research project by enrolling a PhD candidate from KMC in near future.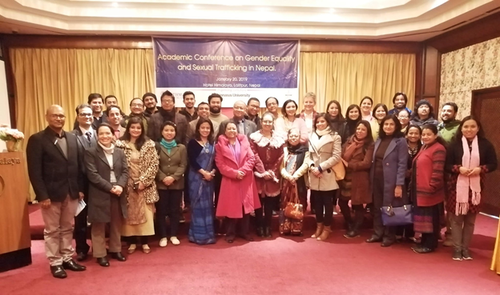 International Conference on Gender Equality and Sexual Trafficking in Nepal on 20th January 2019